Am 8. Feber 2014 ist es wieder einmal soweit und der Pilotto Indoor Bowl wird Schauplatz des alljährlichen Transition Jäm. Der vom Organisator Oliver Gordon auf die Beine gestellt Event lockt immer internationale Top-Bowl-Rider nach Tirol. Bei dieser Veranstaltung geht es nicht darum, wer der Beste ist, sonder um so viel Spaß am Bowl-Skate zu haben wie nur irgend wie möglich ist. Das Format "Battle of Stance" hat mittlerweile auch schon Tradition. Es treten Gruppen von Goofy- und Regular-Skatern in Teams gegen einander an, was einen sehr hohen Spaß-Faktor garantiert. Der Event beginnt eigentlich schon am Freitag mit der Practise Session und dem anschließenden gemeinsamen Abendessen in einem feinen Tiroler Gasthof. Für ein entsprechendes Programm nach dem Contest ist natürlich auch gesorgt: die After-Contest-Party steigt wie auch im letzten Jahr im Kufsteiner Qwest! Zum Abschluss noch der offizielle Flyer zum Event:

… und die Rückseite: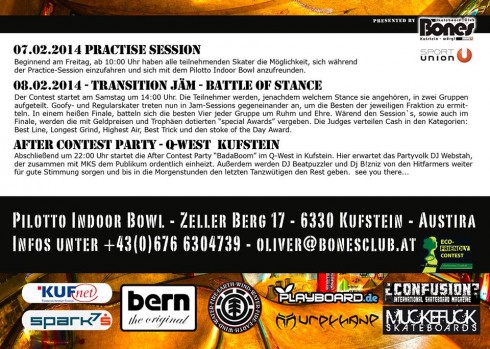 Bleibt nur noch zusagen: see you at the Jäm!