Am kommenden Samstag, den 24. März 2018, ist es wieder soweit und der traditionelle Indoor-Bowl-Skate-Contest Transition Jäm geht in Kufstein über die Bühne. Gestartet wird mit der Qualifikation gegen 15:00 Uhr. Während dieser zweistündigen Session werden die Qualifikanten für das Finale heraus gefiltert. Ausserdem werden Special Awards in den Kathegorien: Best Line, Longest Grind, Highest Air, Best Trick und Stoke of the Day vergeben. Während des ganzen Tags werden lokale Bands den Skatern und dem Publikum ordentlich einheizen. Das Finale bestreiten die besten fünf Goofy- sowie Regular Fahrer, wobei die Gewinner bei der anschließenden Siegerehrung samt Party ordentlich gefeiert werden. Die Party, direkt an der Contest Location, wird von Live Bands gerockt, und verspricht ein großartiges Fest zu werden. Der Ort des Geschehens ist die Kufsteiner Skatehalle des Skateboardclub Bones am Zeller Berg 2, in 6330 Kufstein.
So, hier gibt es dann noch den offiziellen Flyer zum Event:

… und die Rückseite mit noch mehr Info's: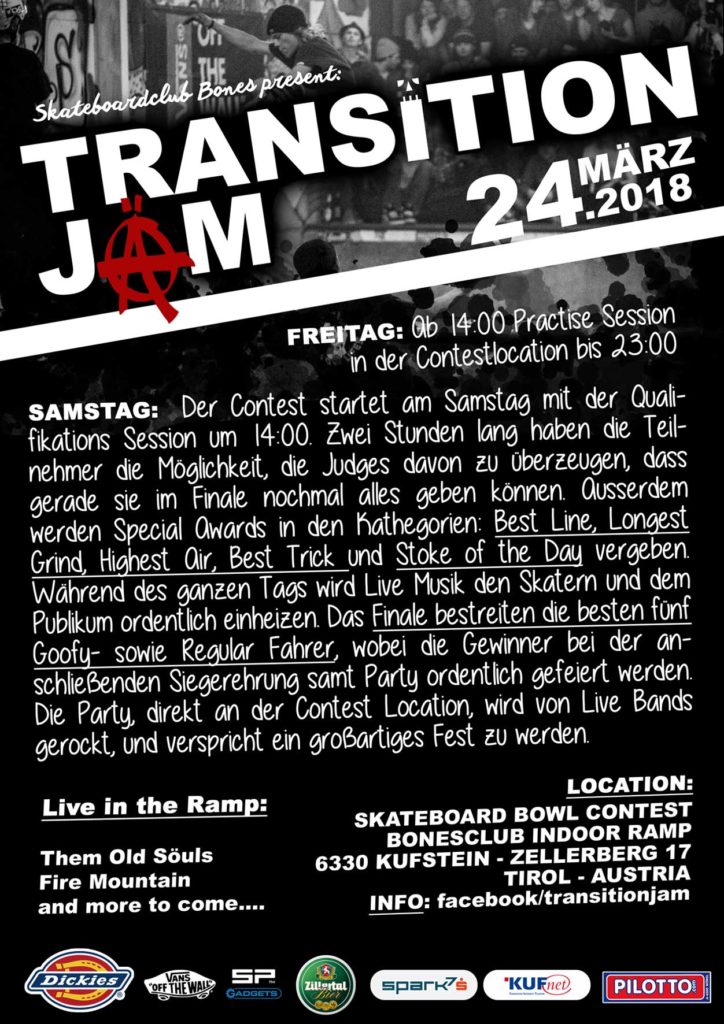 Natürlich gibt es auch alle Info's auf Facebook unter dem folgenden Facebook-Link.
Also, die Shuvit Crew wird wie jedes Jahr mit dabei sein und ich werde versuchen ein paar gute Fotos von der Action für Euch einzufangen. See you there …