You ready to get Aped? Some of you may have heard of this animal collective… and some not, but don't worry, the Shuvit Crew hung out with the Ape Man himself and held a little interview.
We met up with the Man on a sunny Sunday afternoon, in the Atelier, where he was still working hard (yes, on a Sunday), printing and sorting out details for yet another project. So we walk in and are greeted whole-heartedly, the smell of fresh paint in the air really rounded off the whole atmosphere.  The atelier is a cozy work and show room right in the heart of Vienna. When you walk through the door you can feel the creativity popping out of the walls, and everywhere you look, there is something worth looking at. Be it the clothes, or the pix of the team riders hanging on the walls, or the handcrafted decks in almost every corner, and of course the screen printing machine standing there in the next room.
Aped is a brand straight from the heart of Austria, which not only hand-prints a range of awesome clothing and accessoires, but also represents a collective of family and friends that ride; be it skate or snow. Let's emphasize a little here on the heart part, because everything about this brand is made with love. Starting from the very recognisable symbol of the Ape going right down to the fact that all the attire is hand printed.
Below you can see what I mean with the set up and the feel of the place… My good friend and fellow Shuvit Crew man Christian did the pix. That to the left is the door, written on that door by a random person is 'You makes good stuff'. Speaks for itself.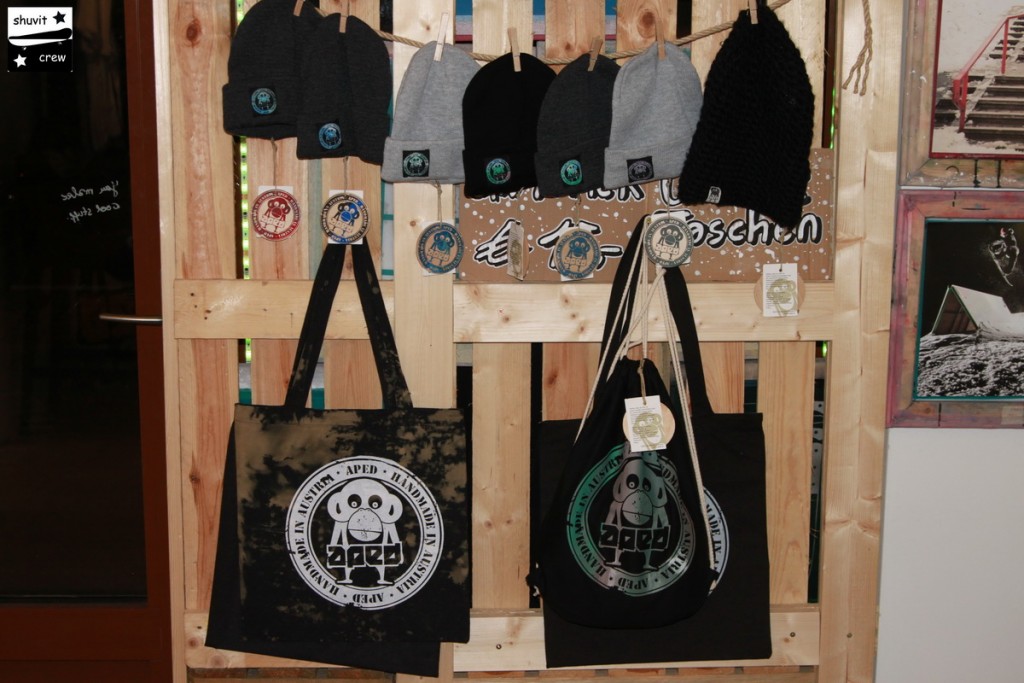 So what is up with the ape?!
Well, we sat down for a beer or two and started talking. Which is easy to do with this guy. I really wanted to know, why the APE? Well, the symbol of the Ape wasn't chosen at random, nor is it his favourite animal. There is alot more to it than that. What the Ape represents is the idea of man. But at it's purest form. We all know what we evolved from right? What other symbol to use in order to let a label be recognised with, other than that of our über relatives? Also coming from a graffitti background, he knows its important to choose a status symbol that can be easily recognised, and a status is set if the beholder can find himself in the symbol.
Having meantioned graffitti as background, one can easily recognise it in the style and his means of expression, as seen in a print piece below; a personal fave of Christian and I….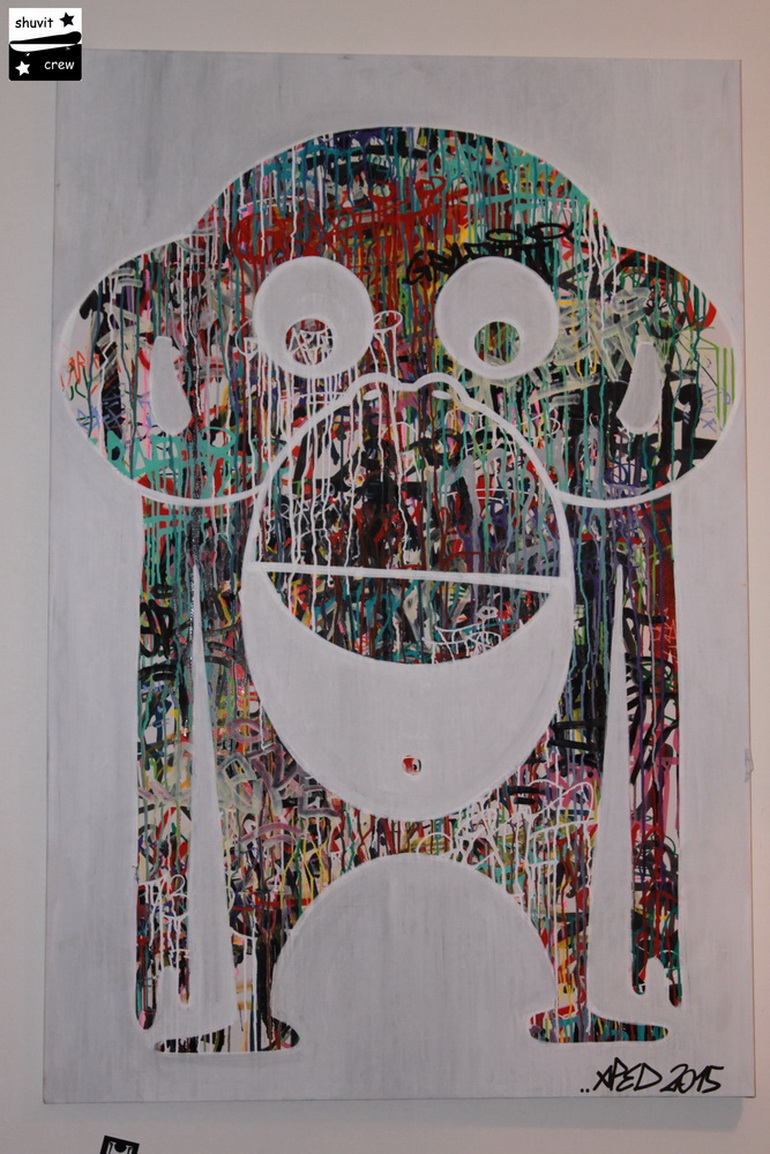 Aped has a family. And this is important. It's one of the things that makes Aped a label that sponsors riders so unique. Aped emphasizes alot on the idea of family.
We all know that family is important, if you have a strong family that has your back, and you have theirs, then not much can screw that up. And Aped knows this, the guys that ride for Aped are all good friends, that just happen to have a whole load of skills. Aped sets his family up with the ultimate attire to ride in. Attire of good quality and hand printed let's not forget.
And his family gives back too, not just by wearing the T's or the beanies with the Ape on it, but they also make sure that Aped is featured in every way possible other than that. Be it where rider Marius Carp does an advert for snowboard bindings, where you can see the Aped stickers in the background of the shot, or by Goran Medic , who decides to get together with his mate Daniel König and shoot a little clip in the name of Aped on their days off from normal work life, as you can check out below;
Aped-Teamrider Goran Medic, Vienna – Bananarama, filmed by Daniel König:
Bananarama from Aped Austria on Vimeo.
Not only has Aped set up his family tree in Austria. But Aped has managed to extend the family tree branches out to some of the guys that show some amazing skill in places like Hungary. This makes Aped not only a local brand, but also a brand that can reach out and connect with other countries. On a personal note, in my own opinion, this certainly sets Aped onto a whole other level from alot of the local brands in Austria.
See for yourself. Below you can check out the clip from Aped-Teamrider Dávid Szépvölgyi, a very talented dude. What I love about this clip is the blood, sweat and love that he shows for the family. A moment where you can seriously say blood is thicker than water. And you can see it too.
Aped-Teamrider Dávid Szépvölgyi, Dunaharaszti – Leave the world behind you, filmed by Bence Ferencz:
While writing this I was lucky enough to catch another family member, Lajos "Ostya" Petrány, also a very talented dude, online and asked him a little about his family ties to Aped. Lajos lives in Budapest and is a strong memeber of the Aped family along with Dávid Szépvölgy. They met the Man a while back at one of the Shuvit Contests. It just went from there… birds of a feather flock together as they say. They were given a few T's and the bond just grew. And I can literally quote from Lajos;
'I love the way what the founders do with the brand, I think about the unique style and the formation, Wooden labels, random paints on the shirts, etc.'
This makes me beam with pride a little. Shuvit Crew and Aped go hand-in-hand since I can remember. And anyone who knows the two, knows that the connection is there for sure. Which is what makes Aped a valuable family member of the Shuvit Crew and vice-versa.
As Lajos said so perfectly in our little chat;
'I saw the "bosses" together, and I saw how good the conection is. Thats the only way to make something together, like the (Shuvit) contest series, there is no contest without sponsors, and there is no brand without commercial. You have to be friends a little bit to make this things right.'
In other words, sure you need sponsors for contests, but to really make things happen, you have to connect at a certain level, and that turns into friendship, that in exactly that order makes it work so much better and therefore, yep, frickin' awesome 😉
Aped-Teamriders: Lajos "Ostya" Petrányi and Dávid Szépvölgyi with The Lab Skateshop-Crew Bálint Kovács and Attila Márk Pál from Budapest skating at Gmunden and Vienna. Filmed by István Matusch:
As I mentioned before, Aped has its family branches reach out not only to the world of skate, but also that of snow. Be it snowboarding or free-skiing. There is some serious talent going on here. The guys seriously know how to bust out some eye-popping tricks.
You can see for yourself, Aped is not just a brand, but a lifestyle with a strong family.
See for yourself, the clip says it all;
The Aped Snowboarding Crew – Familytrip to Innsbruck
Teamriders: Dominik Sagmeister, Lukas Brandauer, Marius Carp, Marvin Salmina, Roli Scharmer
Camera: Christoph Diebold & David Keusch
produced by David Keusch – fiskur.at
Aped Familytrip Ibk from Aped Austria on Vimeo.
Aped is definately a label to look out for. Every person that I personally asked about the brand had one thing to say in common, they love the quality and the individuality that comes with every piece. And what really got me was the amount of heart that goes into it. For the Man it's not about the money or the fame really, it's about what's behind it.
Ah yes, and ladies, not to worry, Aped has a whole collection of stuff for us girls, which I personally love 😉
The time has come to get APED!
You can find all you need to know on Facebook and Vimeo
And just to round things up, a little personal picture of myself with the Ape, and the shirt is obviously by Aped;